Dear Roots & Shoots Members,
Welcome to the Summer edition of the Roots & Shoots newsletter. Doesn't time go quickly?
And what a great six months we have had. The programme has now spread to over 80 schools across the Emirates, including Dubai and Al Ain. If you would like to know where your member schools are please visit our website at uae.rootsandshoots.community.
Inside you will find another packed edition of our activities over the last few months including our exciting annual awards held in January this year at the exclusive Park Hyatt Hotel; a set of fun filled resources now available in Arabic and a chance to win the trip of a lifetime to the beautiful Windsor Castle, the prestigious and world famous home of the Queen of England. Not to mention the launch of our programme in the Czech Republic.
We are so proud of all of you and what you have achieved and continue to achieve to make this world a better place, despite the challenges that we are up against.
Keep up the good work and keep inspired!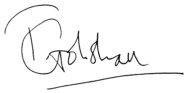 Tara Golshan
Executive Director, Education
To download the full Jane Goodall's Roots & Shoots UAE Newsletter Summer 2017 click here