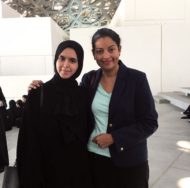 I was lucky enough to have met Tara Golshan the Executive Director of Education at the Jane Goodall Institute in the UK, while I was on a trip to the Louvre museum. It was such a great opportunity! I have met here once before, when she visited my school (Hunain) to look at out projects for the Jane Goodall competition and I had read to her a special poem written by me which was related to the topic! click on the link to read: The people who cared…poem Haya Alnuaimi 
She gave a short speech about how it is important to take care of our environment for now and for future generations to have similar experiences when it comes to the environment. She also spoke about the competition and said that we must take it seriously because, through this we can inspire many and change the world's perspective on the environment. I'm one of the participants actually and I chose to make a magazine piece about: the dangers of plastic straws on our marine environment, and its harmful effects on animals like turtles.
I'm doing this to make people aware and to help support environmentalists who care about this issue. We must all open our eyes and minds before it's too late, we must care about the circle of life. If one animal went extinct it will have a bad impact on both the animals and human's environment, in the end we all live in one planet and we must take care of it because, no one will except us humans. We are the ones that affect the environment negatively and positively and we have the brain and willpower to fix things or ruin them so we must use those two sources for good.
I think what Tara Golshan said and did inspired every one of us to become more aware of environmental problems and taught us that we can make a change for good!
I felt motivated after her speech and I felt strong because, Jane Goodall and Tara are strong women which made me realize that we girls can do anything to make an impact in the 21st century. I feel very lucky to live in a peaceful and encouraging country filled with great people.
I thanked her and I can't thank her and Jane Goodall enough for what they do. I thank everyone who participated too. We are the future! We must do what we can now or never. We are the ones who can and will change our environment now and for future generations to experience what we had. We must stand together as one, always and forever no matter what age, race or even nationality you are, we are all humans, we all have emotions and, in the end, that is all that matters!