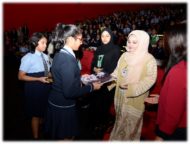 On the 6th February 2017, Modern celebrated UAE National Environmental Day. During the course of the last academic year, students took up a plethora of initiatives to give back to the environment from Kindergarten right up to the senior school, each student has contributed and played their part for the conservation and preservation of nature and our surroundings. The environmental club and council collaborated to create fun games, activities and conducted competitions to raise awareness about the problems faced by our environment.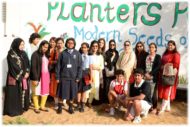 Mrs. Shagufta Zubair and Mrs.Rasha, from the Dubai municipality who are the project leaders for the 'Grow Your Food' campaign.
Anwesha and Prathyush (Grade 6) compered the assembly alongside the Grade 11 hosts, Maria Kamari and Parnika Madan. They highlight-ed all the events that took place in school in order to celebrate the environment from growing plants in old recycled tyres and the various collection drives to the making of a scarecrow for the planter's patch, the 'Grow your food' campaign and the numerous inter-school conferences and exhibitions attended at different universities and schools.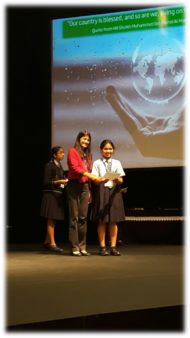 The environmental ambassadors of our school, Aayushi Sangani and Siraj Anwar, laid out the plan and agenda for all the environmental endeavors for the new academic year involving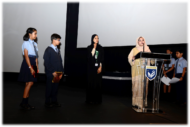 all sections of the school. This was followed by the distribution of Green Awards for students who actively participated in our schools 'Grow Your Food' project, which inculcated elements of organic farming in our students and parents.