The 14th of July is World Chimpanzee Day, where people around the world unite to celebrate the innate value, complexity and importance of our closest living relatives in the animal kingdom – chimpanzees.
It all started with Dr Jane Goodall…
The day honours the anniversary of the moment in 1960 when 26-year-old Jane Goodall first stepped foot onto the shorts of Lake Tanganyika in Gombe, Tanzania, to study these mysterious and wonderful beings. Jane's insights that chimpanzees make and use tools, are compassionate, have dynamic personalities and intelligence – and deserve our respect – transformed the scientific landscape, forever redefining our relationship with the animals we share this planet with.
As Dr Jane Goodall has said:
'We are not different in kind, but rather by mere degree."
The longest running study in the world
The research that Dr Jane Goodall started is continued to this day through the Jane Goodall Institute, and is the longest running wild chimpanzee study in the world – 60 years and going! It provides tremendous insights into the fields of ecology, animal behaviour, health and much, much more.
Celebrating World Chimpanzee Day 2021
For World Chimpanzee Day 2021, we celebrate all the fascinating ways chimpanzees are so like us, and yet so unique! From their ability to form complex relationships and bonds to their extraordinary use of communication, from their essential role in rainforests as seed-dispersers to their individual personalities and stories, chimpanzees are truly one-of-a-kind.
And as we celebrate all the ways in which they are extraordinary animals and our cousins in the animal kingdom, we also look for ways to encourage their conservation and improved welfare worldwide. Through collaborations between individuals, NGOs, governments and corporations, we can grow understanding, compassion and improved wellbeing for chimpanzees.
This year, Dr Jane Goodall and the Jane Goodall Institute are sending out a Pant-Hoot chimpanzee calling to celebrate incredible chimpanzees and use our voices as worldwide change-makers to stand up for our closest living relatives in the animal kingdom – and we want YOU to join us!
How you can get involved
There are plenty of ways you can help stand up for chimpanzees – and as well as getting involved yourself, why not invite your friends, family, school, colleagues and community to get involved too!
Share your pant-hoot of support
Dr. Jane Goodall will often start her talks and events off with an amazing pant-hoot greeting, so we would love you to record your own pant-hoot and share it on social media! Don't forget to include #WorldChimpanzeeDay #wcd2021 #GiveaPANTHOOT and of course @JaneGoodallUAE so we can like and share!
Learn more about chimpanzees
Champanzees are incredible, beautiful, complex animals and our closest living relatives in the animal kingdom. One big thing you can do to help is take some time to learn more about them, and encourage others to do so to.
There are loads of resources online, and here are a few excellent ones that we recommend:
To request an electronic version of the World Chimpanzee day Educational and/ or Activity booklet, please e-mail Jasmina Georgovska at jasmina@janegoodall.org.uk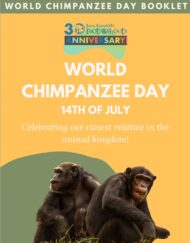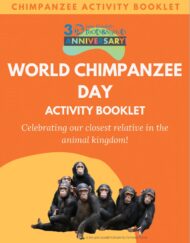 Speak up for chimpanzees
You can use your human voice to speak up for chimpanzees. Call for more protection for the precious land they inhabit, for an end to hunting, and an end to captivity. Our chimpanzee cousins deserve to live free and wild in the forests they call home – protect, respected, and loved.
You can start campaigns, add your name to petitions, call on politicians and business to protect them, and help more people understand their importance.