Explorer Robert Swan OBE is someone who knows all about how far determination and hard work can get you. As the first person to walk to both the North and South Poles, he is also acutely aware of the impact we are having on our planet.
He is a Roots & Shoots ambassador, and has recently spoken to a number of groups in Abu Dhabi about the power they have to make a difference.
Robert is embarking upon a new mission; Climate Force: Antarctica 2018.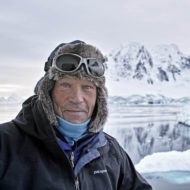 The Mission
(Taken from Robert Swan's 2041 website)
"In November 2017, Robert Swan will make one last expedition to the South Pole with his son Barney, on a mission known as the South Pole Energy Challenge (SPEC). This father and son team will ski on a 600-mile journey surviving solely on renewable energy, a first in polar-exploration. Using this expedition as a platform for engagement, they hope to challenge and inspire people to make measurable changes to how they use energy in their businesses, communities, and lifestyles."
"One month after their return, in February 2018, Rob, Barney, and the 2041 team will join forces with The Explorer's Passage. a pioneer in adventure travel operating within 6 continents. Aligning our vision and passions, the mission is to use Antarctica as a platform to protect our world and create a more sustainable, clean energy future."
YOUR Mission
Robert wants YOU to get involved in the Climate Force Challenge. This is your chance as an individual and as a group within your school to help fight against waste, rising levels of carbon dioxide in the atmosphere, plastics in the ocean and more. We'll have more info on how you can get involved on the site soon, but for now, listen to the special message Robert has recorded for just for Roots & Shoots.
Watch Robert Swan's message to Roots & Shoots