On the 12th January, Roots & Shoots students from across Abu Dhabi came together to celebrate the annual Roots & Shoots Awards. The event was a double celebration, as it was also the 20th anniversary of the Environment Agency, Abu Dhabi (EAD)!
The awards ceremony took place in the Park Hyatt hotel on Saadiyat Island, and students from 13 different schools came along to present their projects, celebrate the success of Roots & Shoots UAE and of course meet the one and only Dr Jane Goodall.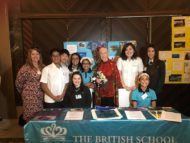 The schools in attendence were:
Al Bateen Scientific Private School Abu Dhabi
Al Taleela Remah School Al Ain
American Community School Abu Dhabi
Bright Rider's School Abu Dhabi
Emirates private school
GEMS American Academy Abu Dhabi
Gems Cambridge International School
GEMS Modern Academy
Private International English School
SKBZ Bangladesh Islamia Pvt. School
St Joseph's School Abu Dhabi
The British International School Abu Dhabi
Universal American School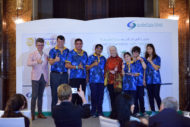 Environment Agency, Abu Dhabi (EAD)
Roots & Shoost UAE is happy to work closely with the EAD, and the awards were the perfect opportunity for Roots & Shoots Sutdents and EAD staff to meet, mingle, chat and share ideas.
As the EAD is celebrating 20 years since its formation, representatives from the organisation spoke about "20th anniversary species and protected areas", celebrating the work it has done to conserve and protect the natural environment in UAE.
The EAD was delighted to hear about the work of Roots and Shoots groups, and was keen to inspire students to come up with innovative solutions to some of the problems the UAE face, particularly with regard to its 9 challenges.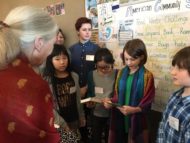 The order of the day
Students arrived early in the morning to set up amazing displays that showcased the project work they have been doing to help people, animals and the environment. The creativity and innovation on show was amazing, with projects covering everything from fundraising to help provide solar lights for a school in Africa, to clever ways to decrease the use of plastic water bottles.
Each school was given great awards to recognise thier contribution to the Roots & Shoots cause. Awards consisted of school certificates, signed copies of Jane's book, Mr H junior and a special trophy with R&S and EAD joint logos.
Schools also heard from turtle conservation expert Arabella and the staff of the Park Hyatt Hilton who talked about protecting turtles. They also had the chance to take part in a Turtle Survival Challenge activity outside in the afternoon, to help them learn about the problems and threats turtles face.
And of course, Dr Jane Goodall talked inspiringly about the importance of Roots & Shoots, her reasons for hope and the fact that each our groups is part of a bigger, global family. All of us, doing our own invidividual parts, makes for a whole that is greater than the sum of its parts.
Together, we can make a difference!