'Every individual matters. Every individual has a role to play. Every individual makes a difference.'
— Dr. Jane Goodall
The Roots & Shoots Team often travel the world, and we love meeting the inspiring, determined and talented young people who are working to make the world a better place. In a recent visit to the UAE, we met students from the GEMS Modern Academy, and this feature is written by their student press team. Enjoy!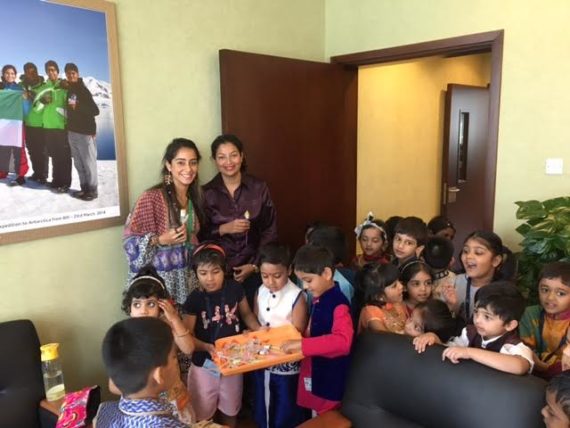 Roots & Shoots is a charitable organization guided by the founding principles and extraordinary vision of Dr Jane Goodall, renowned primatologist, environmentalist and humanitarian.
Modern was excited to have Mrs. Tara Golshan, Executive Director of Education at Roots & Shoots in the UK and close co-worker of Dr. Goodall, over to spend time with some of the students. She spends a lot of her time traveling around the world meeting young enthusiasts who care for the environment, it's diverse life forms and resources. I was part of the group of privileged students to have attended an interactive session with Mrs. Golshan.
She was accompanied by Ms. Mariam Al Qassimi, Communications Specialist at the Environment Agency-Abu Dhabi, a government agency that sponsors the Roots & Shoots programme, which is committed to conserving the environment, protected areas, species, air, water and soil quality in Abu Dhabi. Ms. Al Qassimi began her journey with the Roots & Shoots Community when she herself was just a student and later embraced this wonderful platform into her adult and work life as well.
They were greeted by our Principle in the morning and welcomed by our beloved kindergartners. The adorable children offered Mrs. Golshan and Ms. Al Qassimi delicious Diwali sweets and made them feel right at home. They were later taken around our school. Mrs. Golshan and Ms. Al Qassimi were beyond impressed and loved our rose garden, planters patch etc.! Later in the day, Mrs. Golshan gave a talk to a group of students, fortunate to have been offered this opportunity. The session began with her briefing us on the various struggles our planet faces today. From pollution to endangered species, overuse of nonrenewable energy sources to the deeply concerning issue of ivory poaching, all spheres of our biosphere are under threat. She also spoke to us about the inspiring Dr. Jane Goodall, who has fought and continues to do so against the various humanitarian, animal and environmental issues affecting our world, for over 60 years!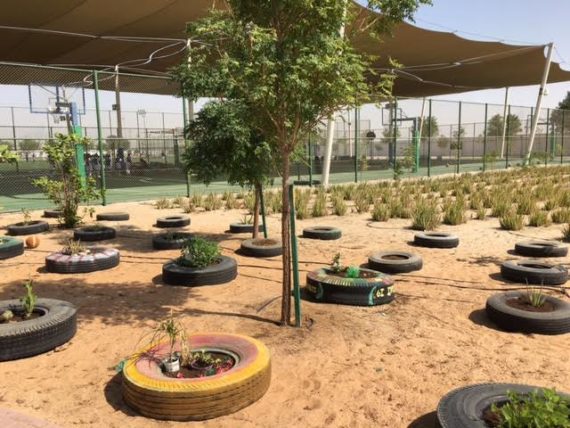 However, just knowing about such issues isn't enough. We have to do something about it, but how? Where? When? What if we can't achieve anything important? Mrs. Golshan explained to us how the first steps, often the most difficult ones are the most important. She told us about how long ago when Roots & Shoots was still in it's infant years, she was to talk with the Environment Minister of the UK about the organization and the role that it would play in the UK. She was highly optimistic about the meeting, sure that it would be a success given that he was the Minister of Environment. But she left the meeting with a not so upbeat spirit. He had simply told her, "You are trying to do way too many things. It is just not possible ". The prospect of an organization that gave equal importance to humanitarian, animal and environmental issues simply didn't have a successful future to him.
Today, Roots & Shoots boasts over tens of thousands of young people across over 130 countries, with the UK being one of the leading countries. It was at this point that a boy asked, "Some people care and others simply don't. It is hard to hope for a better future like that. Do you think there is hope?". When faced with this difficult question that leaves almost all tongue-tied, Dr. Jane Goodall — shared Mrs. Golshan — always says one thing; hope is yet to be lost. Hope was always there, it still is and always will be, and it lies with us; her family, the Roots & Shoots Community, and today's youth. We are the key to making a difference and Roots & Shoots understands the grave importance of engaging the youth in their causes. "Hope is with you", Mrs. Golshan says.
A little more into the talk a boy raised a question, one that shapes the attitude of almost all people in the world today. He asked, "Just because me, one person, decides to contribute, how does that make a difference in the larger environment?".
To answer this, Mrs. Golshan replied with a the story of a man who was at a beach with his mates one early morning. He was walking along the shore after a big storm had passed and found the vast beach littered with starfish as far as the eye could see. He began picking up one starfish at a time and threw it at the sea. His baffled friends asked him why he was doing this. "You can't possibly save all those starfishes! What difference does it make!", they said. The man picked up yet another starfish and threw it as far as he could into the ocean. Then he turned, smiled and said, "It made a difference to that one!"
Mrs. Golshan shared how Dr. Goodall firmly believed that young people, when informed and empowered, when they realise that what they do truly makes a difference, can indeed change the world, and this is at the very heart of the Roots & Shoots Programme.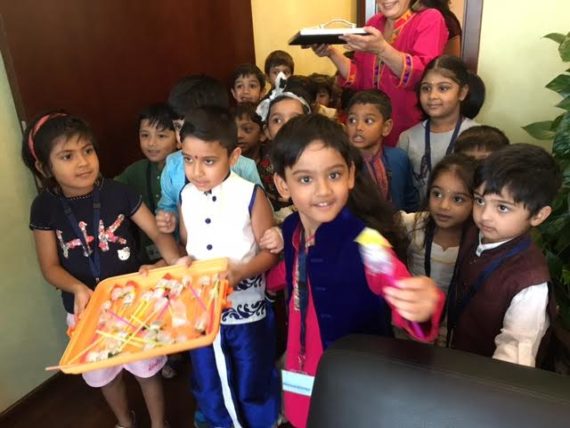 Assured that no contribution is ever too little, this powerful message of hope touched me and all other students deeply. We wish, and our school hopes, to work closely with the Roots & Shoots UAE Sector through groups that the students will
be forming. They will come together to share ideas and inspiration, implement successful community service projects and participate in various campaigns taking place around them.
I, for one, left the room that day feeling inspired and instilled with a newfound passion in caring for the planet that we live in, the generous resources it has showered upon us, the various communities and the precious life forms that share it with us.
Mrs. Tara Golshan succeeded in remodeling our attitude towards the wonderful world we inhabit and opened our eyes to the fact that every contribution, however little, makes a difference. She, along with the entire Roots & Shoots family, continues to inspire youth from all around the world through the works of many associated with the organization, and the incomparable legacy of Dr. Jane Goodall.
Modern now announces with pride that it too will be a member of the Roots & Shoots Family. Students, and the school, will take initiative and more projects will be held under the programme. We hope that perhaps, sometime in the future, Modern may be fortunate enough to have Dr. Jane Goodall herself pay us a visit!