25 years ago, on the 19th February 1991, Dr Jane Goodall set up the first ever Roots & Shoots group with 12 students from Dar es Salaam in Tanzania. The students were concerned about some of the problems facing their community and the environment they lived in, and wanted to do something about it urgently.
Fast forward 25 years, and there are now Roots & Shoots groups in over 130 countries around the world, including Abu Dhabi, the United Kingdom, the US, Indonesia, Peru, Quatar and more.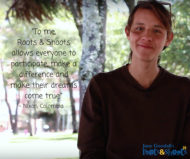 These students are taking the mission of Roots & Shoots to heart, making the world a better place for people and animals and caring for the environment. Between them, they've worked on hundreds if not thousands of projects, like planting vegetable gardens to help urban biodiversity, teaching their communities about the issues of habitat destruction, raising money to fund education and conservation projects around the world and working with local media to raise awareness around the importance of forests.
On the 19th February 2016, Roots & Shoots groups around the world will be celebrating, and we'd love you to get involved!
Get involved in the celebrations!
If you'd like to get involved in the 25th anniversary celebrations, there are lots of ways you can spread the word and make a difference.
A thunderclap is a where a number of people sign up to share one message simultaneously on social media. It's a great way of raising awareness of a particular issue, and you can join the Roots & Shoots Thunderclap quickly and easily.
Link: https://www.thunderclap.it/projects/37744-growing-youth-leadership
Tweet the hashtag
If you've got projects you want to share, inspirational stories or images, or just want to celebrate with us, make sure you tag your tweets with the anniversary hashtag: #Rootsandshoots25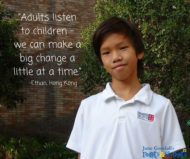 Visit the website
We've got a special, global Roots & Shoots Anniversary website that has a special message from Dr Jane Goodall to all Roots & Shoots groups, plus information on some of the amazing projects our amazing members have been working on.
Link: http://www.rootsandshoots.org/25years#25th%20Anniversary%20Celebration
Get involved!
If you're a school or a youth group (or you know one!) then become part of the amazing global community of Roots & Shoots. The theme for this anniversary is 'growing together' and Roots & Shoots is all the stronger for the amazing members we have all around the world.
Follow us online
Roots & Shoots is on Facebook and Twitter, so pop online and give us a follow! We'll be sharing news and updates from Dr Jane Goodall, inspirational stories, amazing projects and more.