Dr Jane Goodall met with students from across Abu Dhabi to celebrate two very important events: the Roots & Shoots UAE Awards and 25 years of Roots & Shoots worldwide!
Taking place in the Park Hyatt hotel on Saadiyat Island, the Awards were an opportunity for everyone to meet each other,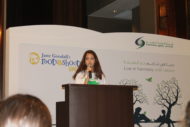 and share and celebrate their projects and achievements. Dr Jane Goodall was there to meet the students and find out more about the amazing work they've been doing, and there were also representatives from the media, government and Roots & Shoots partners.
Don't forget to check out our image gallery at the end of this post!
The Awards are all about celebrating the work Roots & Shoots students have been doing to help people, animals and the environment.
Roots & Shoots itself has been running for 25 years, and around the world people celebrated it's creation on February 19th. It all began when Dr Goodall created the first Roots & Shoots group with 12 Tanzanian high school students who wanted to tackle urgent problems they witnessed in their community – and now there are groups making positive change in over 130 countries worldwide!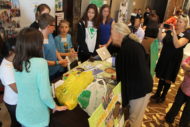 "When I first met with high school students 25 years ago in Dar es Salaam, Tanzania – the first group of Roots & Shoots, I hoped that it would spread to other countries." Said Dr Jane Goodall. "I could not have dreamt that a quarter of a century later it would represent thousands of young people around the world learning about local problems, planning projects and creating so many hands on activities to benefit their communities, animals and the environment we all share."
"I am immensely proud of all those who have been a part of the programme over the years and hope that 2016 will be a year of celebration of all that Roots & Shoots has achieved and a platform to launch us ever further in the years ahead."
Students came from the following schools to take part in the celebrations:
Al Muna School
Al Mushrif
American Community School of Abu Dhabi
Emirates Private School
GEMS American Academy Abu Dhabi
Mayoor Private School
SKBZ Bangladesh Islamia Pvt. School
The British International School-Abu Dhabi (BISAD)
The students were asked to present two things; firstly, a project as part of the 25 years of Roots & Shoots celebrations that could run into the future and even be extended, and secondly a '5 days of drought' challenge where students were asked to reduce their water usage for 5 days.
The "5 Days of Drought" involves significantly reducing the students daily water consumption in order to experience first-hand the challenges others face on a daily basis, and to learn how they could alter their behaviour on an ongoing basis in order to conserve water. They could select a level of difficulty: the 20L, 50L or 100L. By participating, they aimed to raise awareness about the plight of those who lack access to water, as well as the overconsumption of water in UAE.
After the awards, the students also took part in the 'turtle challenge' – a fun way to explore the impact of marine litter on these beautiful animals.