Dr Jane Goodall has been visiting the UAE over the last week for the annual Roots & Shoots Awards Ceremony, and she's had a wonderful time meeting many students who have been involved in Roots & Shoots UAE over the last year.
Dr Jane Goodall also took the opportunity to speak at the International Water Summit, organised by EAD – the Environment Agency Abu Dhabi – who are also our partners.
"The UAE has taken vital steps to create and implement innovative programmes that help protect our precious environment and greater ecosystem." she commented. "I commend the Environment Agency in particular for tackling the pressing issue of water scarcity through localised sustainable long-term solutions and look forward to future opportunities that our continued partnership may bring."
As part of the trip, Dr Jane spoke at the Park Hyatt Hotel with their resident marine biologist Arabella Willing, with lots of children joining in to find out more about the amazing variety of wildlife to be fund in the waters of Abu Dhabi, the threats facing them and how people can help!
She also gave an engaging and inspiring talk at UAE University, commenting on the work being done in Abu Dhabi to combat climate change.
"Isn't it interesting how the most intellectual creature to have ever walked the earth is destroying its own home," she said. "In the UAE there are so many advanced technologies that are being used to try and combat [climate change]. We are now beginning to understand what we have been doing, and trying to reverse the situation."
Dr Jane of course also took lots of time to meet some of the many students who are part of Roots & Shoots Abu Dhabi, and find out more about the ideas they have to help reduce waste, increase recycling, and help people and animals around the world.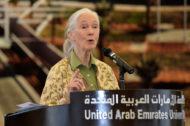 One amazing initiative is called 'Boot the Bottle' and it was set up by Julia Grifferty, a student at the American Community School. It's a campaign that calls for a ban on selling plastic bottles of water at her school, and it's proved so popular that it's now going to expand to other schools.
"Our vision is we won't stop," says Julia "and like Jane Goodall says, you should never give up. You should have courage of your own conviction."
If you want to get involved in Roots & Shoots, sign up to find out more. There are loads of activities and resources online that are free to use.