Dr Jane was delighted to visit Qatar earlier this year, and as a result, we are excited to welcome our first Qatar member school –  Qatar Academy Sidra.
Qatar Academy Sidra (QAS) is a Qatar Foundation school established in 2012 to challenge today's learners and empower them to be the change-makers of tomorrow. As a part of Pre-University Education, QAS is a non-profit co-educational international school that offers a broad-based international educational program.
QAS inspires and empowers our learners to be equipped as future agents for a sustainable world. As such, we have numerous programs for our students to create awareness about various global and local issues and what can be done to tackle them. Some of these programs have been recognized locally and internationally, and they keep inspiring our students to take action.
Roots & Shoots was launched at QAS on Jane Goodall's 89th birthday, 3 April 2023. On this day, we planted fruit trees around our campus and celebrated Dr. Jane.
Roots & Shoots at QAS aims to achieve five main objectives over the next two years: creating awareness about food security, nutrition, carbon footprint, biodiversity, and the circular economy. To achieve these objectives, we are committed to working consistently, improving by adding value to what we already have, and implementing additional projects to educate our community about the urgency of taking action to save our planet.
Here are some of our projects as part of the programme:
Garden-Based Learning: Our Garden-Based Learning program was established five years ago and was recently recognized as one of the best education innovations in Qatar by HundrED at Qatar Spotlight. Garden-Based Learning, inspired by UNESCO's Garden-Based Learning Program, began as an after-school program to educate our students about the importance of consuming nutritious food and acquiring knowledge to grow it. A small and unused plot in our school's backyard was turned into a vegetable garden, and the vegetables from this garden were supplied to our cafeteria. The nutritional qualities of these vegetables were displayed in the cafeteria to encourage students to eat fresh and healthy food. When we started harvesting on a large scale, we sold it in our communities to raise funds for the Educate A Child program.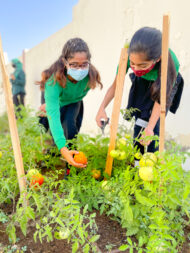 2. Medicinal and Aromatic Plant Garden: To create awareness among our students about biodiversity loss and preserving the local flora, we introduced a medicinal and aromatic plant garden. The students learned about the medicinal properties of various plants and identified the uses of such plants in this garden. We had turmeric, ginger, garlic, aloe vera, neem, tulsi, mint, basil, sage, coleus, fenugreek, fennel, hibiscus, and marigold. The highlight of this project was that these plants were grown in hot and arid conditions, which proved our students' dedication to the project.
3. Recycling Program: The students repurposed various items such as water cans, tires, paint cans, and drums to cultivate plants, preventing them from ending up in landfills and releasing environmental toxins. Small windows were cut out of water cans to grow potatoes. Plastic plates were used to grow microgreens. Large drums were cut into boat shapes to grow aquatic plants like water lilies.
4. Composting and Food Superheroes: One of our recent projects to work toward circular economy awareness and carbon footprint awareness is our composting program. The food superheroes from various classes took turns composting daily cafeteria food waste by combining it with coir pith and friendly bacteria. Please watch this video to learn more about how composting is done at our school. This compost will be used in our garden to grow vegetables. Thus, we return what we took from the earth, completing the food cycle.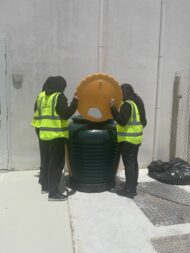 5. Millet Exhibition: We recently conducted a Millet Exhibition on our campus to celebrate the international year of Millets and work toward our objective of creating food security awareness. The nutritional qualities and benefits of bringing millets back to our dining tables were discussed in homerooms through videos, and millets were displayed to identify them. Awareness programs like these about alternative food sources like millets will encourage the next generation to think about exploiting these resources.
6. Food Processing: During the on-season in Qatar, we have plenty of harvests; there is a dependence on imported food in the off-season. To support the country's vision of achieving food security, we conducted food processing workshops to educate our students about preserving food for future use. Imported food comes with various risks, whereas locally grown food is more nutritious, boosts the local economy, reduces transportation costs, and promotes a safer food supply. We experimented with pickling various vegetables and discussed jam-making, jelly-making, marmalade-making, and salting. We urged our students to be future entrepreneurs in the food processing industry.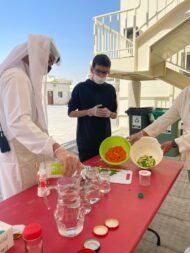 Apart from these projects, we would like to bring back our tower garden to grow some leafy vegetables using aeroponics, integrate various entomological and ornithological studies to preserve the local biodiversity, conduct a survey to create awareness about carbon footprints and ways to cut carbon in our daily lives, introduce yard sales to promote reuse, and conduct exhibitions to speak about the urgency and power of collective action to combat climate change.