There was no better way to celebrate Dr Jane's return to the UAE after three years, than the Jane Goodall's Roots & Shoots Awards.
The inspiring day was sponsored by DP World and hosted in their spectacular EXPO Dubai Pavilion.
The theme of the event was 'The resilience of Roots & Shoots through the Pandemic', where 10 of our amazing Roots & Shoots members presented their outstanding projects and filled the room with hope and positivity.
We would like to thank Abu Dhabi Homeschoolers Association; Abu Dhabi Indian School, Muroor; American School of Dubai; Delhi Private School, Sharjah; Dunecrest American School; Fairgreen International School; GEMS United Indian School; Pristine Private School; Safa Community School; The Arbor School for putting together amazing videos and displays showcasing their hard work and dedication – from gardening to recycling, from caring for animals to raising money for important causes, they highlighted the importance of never giving up, even in the hardest and most challenging circumstances.
We would also like to thank all our guests and guest schools for joining us in celebrating making a positive difference for animals, the environment and our communities.
Dr Jane was delighted to visit each stand and talk with the students about their work.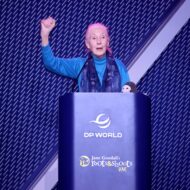 Reflecting on the day, she said: "It was so inspiring and uplifting to be back in the UAE and attend the Roots & Shoots Awards. The projects were exceptional given the challenges the students & teachers have faced during the Pandemic. I am so proud of all of them".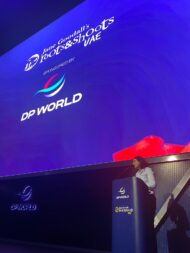 Our Executive Director, Education, Tara Golshan commented: "This has been a very special awards for us. It is Dr Jane's first return trip to the UAE in 3 years, and our first "in person" event post Pandemic.
Today, the standard of the projects truly demonstrated the resilience of our Roots & Shoots programme and the remarkable achievements of its members, despite the challenges of a Global Pandemic. We have now reached over 150 schools in the UAE and look forward to continued collaborations and growth across the region of the UAE. A very special thank you to our sponsors at DP World. Their generous support has enabled us to continue our great work in this region.
In a world where everything is instant and fast paced Roots & Shoots has tremendous value, not only through our long-term relationships with our teachers, schools, sponsors and partners, who have travelled this journey with us, but also in the longevity of the projects that are creating a sustainable future."
Thank you Syed Husainy/ DP World for capturing these great moments.