Dear Members,
How quickly the Summer has come around. It's hard to believe that we are already half-way through the year.
After two years of the Pandemic, I have to admit going back to the proverbial 'normal' has been a bit unsettling, and a sharp reminder of the hectic lives that we all live.
I undertook a return trip to the UAE last month, visiting both long-standing member schools and new schools in Dubai and Abu Dhabi. This followed major celebrations in the UK, where we had the privilege of celebrating Her Majesty's Jubilee, a truly moving and inspirational event that we will only bear witness to once in our lifetimes.
It was heart-warming to see how much Roots & Shoots has become, not just a programme, but a way of life for our young members. They have embraced its qualities as a fundamental part of both their curriculum and their day-to-day activities for living a more environmentally conscious life and hence leaving a lighter ecological footprint on our precious planet.
The qualities that Queen Elizabeth embodies, those of commitment, resilience, endurance, kindness, dedication and ultimately love for her people are highlighted through the many projects I visited first hand in the UAE.
As a charity, JGI has been lucky enough to work closely with St George's House at Windsor Castle, and their amazing team, on our annual Roots & Shoots Summit held in their spectacular grounds every year. Students are chosen to attend from around the world, including the UAE. We plan to host another Summit there in 2023 so watch this space.
In the meantime, please read on and enjoy our Summer update, highlighting some of the great work of our young members who are already following well in Her Majesty's footsteps, demonstrating the qualities that create a better future for our Planet, its environment and all its inhabitants.
Have a great Summer,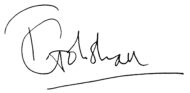 Tara Golshan
Executive Director, Education
To download the Jane Goodall's Roots & Shoots Summer 2022 Newsletter, please click here