Dr Jane used to travel around 300 days a year, spreading the message of hope and inspiring thousands of people all over the World.  The pandemic quickly put a stop to that.  Dr Jane and her teams around the Globe adapted immediately through the technology of Zoom, Teams and other IT platforms. It was an adjustment to all, but the goal was the same – Educate, Inspire, Act!
In April, Dr Jane travelled to the USA for the first time in two years. On the 5th April, she was able to have her first COVID friendly opportunity to see the #BecomingJane exhibit for a private event at the Natural History Museum of Los Angeles County!
The morning began by taking a private tour through the Becoming Jane exhibit. Faced with decades of her life's work, even going as far back as her childhood, it was understandably a very powerful moment for Dr. Goodall, who incorporated those fresh memories into her morning speech. Addressing the Roots & Shoots USA youth changemakers, who had been invited to present their projects to the broader R&S community, Dr. Goodall spoke with Saad Amer about the troubles facing the planet and how our youngest generations are at the forefront of environmental activism. Following her presentation to the members of Roots & Shoots USA, Dr. Goodall then sat down for a moderated conversation with Los Angeles Times reporter, Patt Morrison.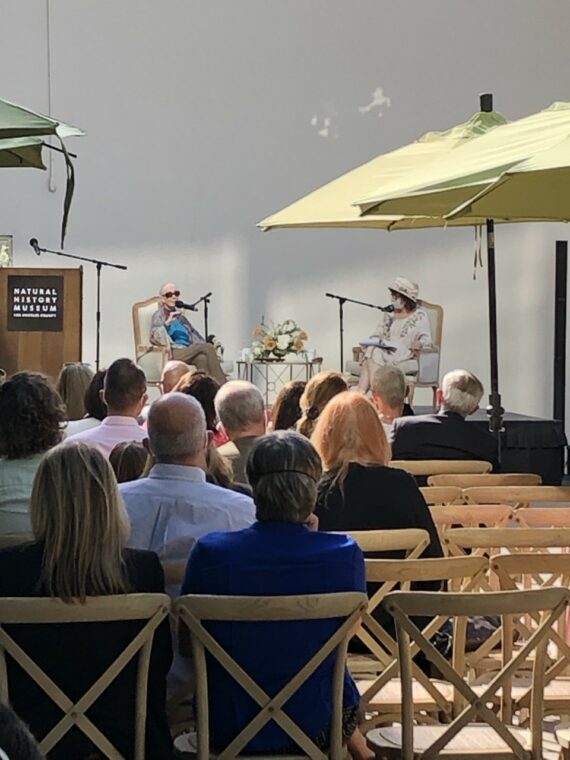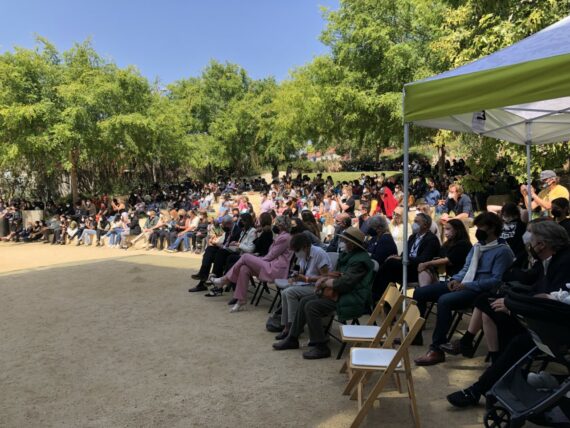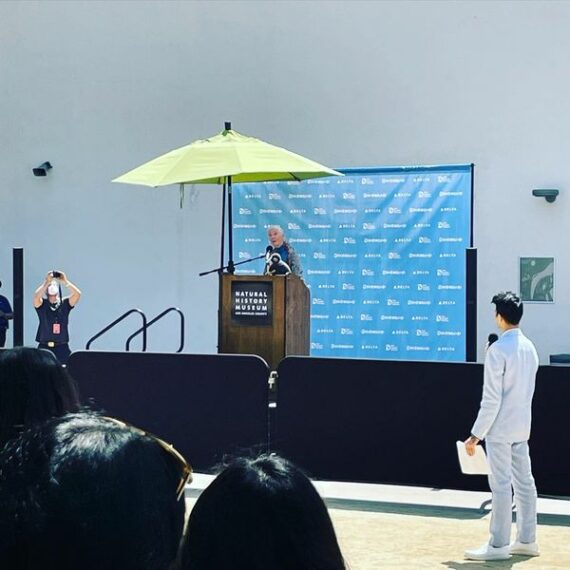 In September 2021, Cosmic Picture announced that it will distribute   JANE GOODALL'S REASONS FOR HOPE, an exciting new giant screen film currently in production with the talented team at Science North, an interactive science museum in Greater Sudbury, Ontario, Canada.
Jane Goodall's Reasons for Hope is based on the iconic Jane Goodall's philosophy of hope for the world and all of life on it, including both the natural world and its' human inhabitants. Dr. Jane has long been recognized as a trailblazer who revolutionized our understanding of the world. Drawing on historical footage of Jane's early primate research and her current work as a global advocate for environmental and wildlife conservation, the film will highlight inspiring stories – inclusive of those advanced by her namesake institute – that embody Jane's reasons for hope across four key themes: the energy and dedication of young people, the extraordinary human brain, the resilience of nature, and the indomitable human spirit. This is Science North's 8th giant screen film, which includes Jane Goodall's Wild Chimpanzees released in 2002 to international great acclaim.
The film will be available April 2023 in Digital 2D & 3D for IMAX and giant screen theatres
Dr. Jane travelled to Austria recently to see the reintroduction programme for wild Ibis near Salzburg.
She had a short journey in a microlite which is used to teach young ibis to travel on their migration routes.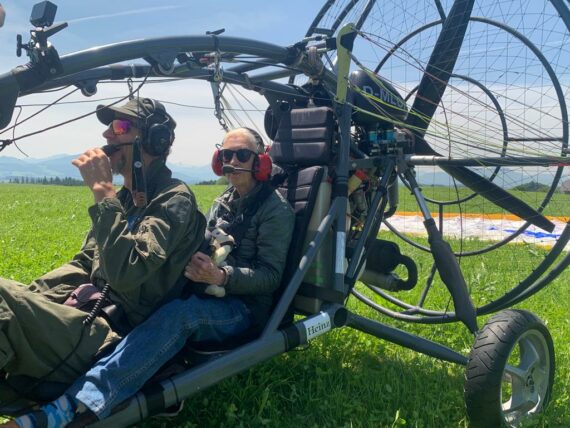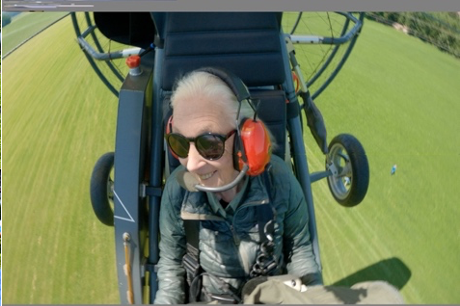 In mid-June, Dr. Jane will travel to Montana for further IMAX filming with a Buffalo reintroduction programme and then to Sudbury in Canada where that area has been the subject of a major restoration project.
Although she is still doing many events virtually by zoom from her home in Bournemouth, UK, Dr. Jane hopes to visit JGI's programmes in Tanzania in July and August and to travel to a few locations in North America before attending the JGI Global meeting in Vienna in November.
Dr Jane is already looking forward to the Roots & Shoots Awards in Dubai in January 2023.