We are thrilled to announce that our UAE schools have been super busy integrating Roots & Shoots into their National Curriculum.  Our Director had the pleasure of visiting the UAE this month.  Here are just a few of the highlights;
Pristine Private School – Dubai – under the expert leadership of Zainab Roker the school has been highly active in environmental and humanitarian work including the Eco School Green Flag and the NASA Astronaut Project.  They will soon be taking part in the Twinning Programme. Tara Golshan was honoured to be the keynote speaker at their Graduation Event at Amity University.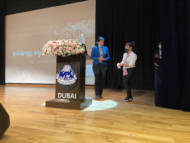 Delhi Private School – Dubai – The Principal, Rashmi Nandkeolyar has started to embrace R&S through some exciting Eco projects.
Abu Dhabi Indian School, Muroor – under Aditi and her amazing team the schools had attended the Virtual Roots & Shoots Awards last year. The students are hugely active with an amazing water saving project, HOLD THAT DROPwhich includes the creation of an exciting and innovative new app.  They will also be taking part in the Twinning Programme.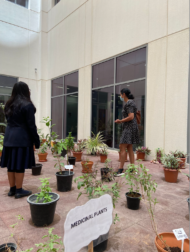 GEMS United Indian School –   thanks to the dedication of Bhindu Zachariah and her team they have undertaken a huge variety of R&S projects including an environmental exhibition with a range of eco-friendly practical designs and a creative environmental fashion show.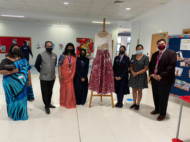 Fairgreen International School – one of our longest standing members, under Adam Hall's amazing leadership, Fairgreen have developed impressive organic gardens and an animal rescue centre.  A Jane Goodall building block, with her wise sayings displayed around the school, lays testament to her influence and vision.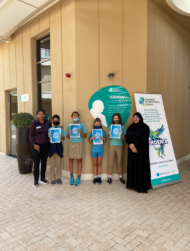 The Arbor School – the Arbor School is an international, ecological school, based on the British curriculum and offers places in Foundation Stage 1 through to Year 9. Started in 2019, three years ago by a Doctor who wanted to originate a school with the main focus on sustainability incorporated into every subject.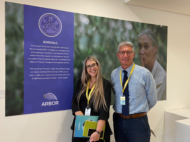 Amazing eco education Domes; a building named after Jane, and an animal rescue centre. Read the full article in this edition.
Special congratulations to Abu Dhabi and Gems United Indian School for integrating the programme so successfully and getting the whole school involvement, in some cases over 3000 students have taken part in one project!   And a special commendation to Fairgreen for all their on-going work in regards to their environmental projects, not to mention the special building named after our prestigious founder.
A very warm welcome to our new members at the Pristine and Delhi private schools and the Dubai Gem Private School who have started to develop Roots & Shoots activities.