One of the Jane Goodall Institute's key programmes is Roots & Shoots – a world-wide movement of thousands of passionate young people making significant impact across more than 60 countries. Whether it's natural disasters, homelessness, pollution or climate change, Roots & Shoots groups are embracing challenges and creating real positive change across the globe.
Through free resources for teachers and team leaders, Roots & Shoots groups are undertaking project work to address the challenges facing our planet for animals, the human community and the environment – focussing on both local change and international projects resulting in global impact.
DP World are a leading provider of worldwide smart end-to-end supply chain logistics with a presence in 55 countries, enabling the flow of trade across the globe. This exciting partnership will support the expansion of existing Roots & Shoots groups and the development of new groups in the UAE and around the world, including the provision of a new schools outreach officer. It will also support the creation of new Roots & Shoots resources focusing on the marine ecosystem.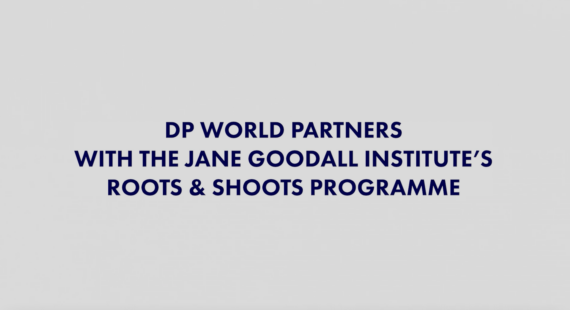 Dr Jane Goodall, DBE, said:
"Roots & Shoots is empowering young people to make a difference in their local communities in over 60 countries worldwide. DP World is a major global corporation, and it is heartening to know that they are committed to making positive change for people and the environment. All around the globe DP World staff share the Roots & Shoots goal of protecting our planet and by partnering together we hope to enable more young people to become the compassionate changemakers our world needs."
The Jane Goodall Institute is a collection of 24 global community conservation organisations that advance the vision and work of Dr Jane Goodall DBE & UN Messenger of Peace. The partnership with DP World is being proudly led by the Jane Goodall Institute in the UK.
You can watch Dr Goodall and Group Chairman & CEO of DP World, Sultan Ahmed Bin Sulayem being interviewed by pupils from Dunecrest School, Dubai here