I never thought I would go an expedition to the Arctic. Yet there I was this June – one of 86 members from 27 countries selected from over 2,000 applicants – for the "Leadership on the Edge" program with Robert Swan and the 2041 Foundation; a proud ambassador for Roots & Shoots and a new member of ClimateForce 2019.
It feels impossible to convey just how breathtaking the top of the world is. If I close my eyes, I can still feel the freshest air I've ever breathed fill my lungs. I can hear the melting of the ice crackle echo around me in the deafening silence. I can feel the immense gift and responsibility of seeing and being in such a remote part of the world. I share this journey with you now, no longer hoping you will act for our planet but knowing that our very survival depends on it.
Here are my top 4 takeaways from my journey to the top of the world:
The Wonder of the Wild
There is nothing quite as humbling as the vastness of the ocean around you. I have always struggled to meditate, but the closest I have ever felt to an inner peace was standing on the side of our National Geographic ship; mesmerized by the crystal blue waters and icebergs, soothed by the white floating ice sheets, and brightened by the seemingly never-ending midnight sun.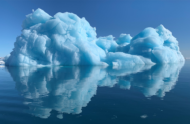 And then there was the awe of seeing the wondrous wildlife native to the Arctic circle. We were graced with sightings of whales, including the rare and elusive bowhead, one of the oldest living mammals on the planet at up to 200 years old. Even on the morning I forgot to wear my thermal pants, I spent almost two hours shivering yet enthralled for fear of a moment of missing out on the opportunity to witness these living legends.
We hiked along the footprints of Arctic foxes, and witnessed Arctic reindeer playfully galloping across the Tundra. My new winter spirit animal is most certainly the walrus. These iconic Arctic giants can weigh over 1,000 kg or 1+ tons, and alternate between 80+ hours of swimming to hours of snoozing on land or ice. While they appear bulky on land, they turn to ballerina-like grace underwater!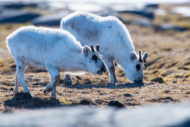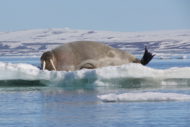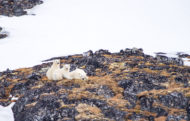 Last but certainly not least, the animal perhaps most synonymous with global warming: the polar bear. We were so fortunate to see a mother and her two cubs, and all I can say it's no wonder these bears have captivated the world's attention.
I urge you to design experiences that inspire awe and get you away from urban man-made surroundings to be connected with nature. We were made to be a part of this planet, not apart from it.
2. Disconnect to Reconnect
"The greatest revelation is stillness." Mirroring the quiet of the pristine beauty around us, we also quieted our inner selves because guess what? We had no wifi. Stilled by the disconnection from digital distractions and surrounded by the infinite peace around us, we were acutely aware of the power that nature has to restore and recharge us.
No day in the Arctic went according to the original itinerary. Yet despite all the changes, we saw and experienced almost everything we hoped to. Our adventure guides needed to pivot based on whether ice sheets shifted to allow us through; our National Geographic naturalists scouted for best places and times for wildlife sightings that were safe. At any moment, the captain could announce an excursion and we had to be ready within 15 minutes notice, which meant being dressed in waterproof winter gear 24 hours a day. It was simultaneously unpredictable and challenging, beautiful and freeing. I realized the importance of adopting the pace of nature – one that was not governed by the clock, hours, or schedule but rather one that adapted to the weather, rhythms, and beats of the world around us.
When was the last time you slowed down, disconnected, and immersed yourself in your surroundings without a plan?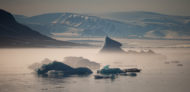 3. Choose Hope
On our expedition, I'm disheartened to share there wasn't a single shore in the Arctic where we did not find plastic waste. None of this originated from the Arctic circle. Even in the most remote places on the planet, our impact is evident. We need to build movements that rise higher than the seas and build communities that replenish faster than they destroy.

It's easy to feel disheartened by the complexity of the crisis but there is hopeful news all around. One of the most inspiring parts of my expedition was learning from incredible naturalists & change makers from around the world working on solutions towards restorative climate action. There are so many people, groups & organizations out there working to save each and every single one of us. Support them by fighting any tendencies to despair and by celebrating the good news.
Embrace a more conscious lifestyle by doing simple yet powerful things – be it planting trees, reducing your waste, or making more environmentally friendly consumer choices. As my new friends from Green is the New Black say, sustainability is a journey and we all need to take little green steps.
Surrounded firsthand by the magnitude of this planet's pristine beauty, it was difficult to ignore its fragility and the magnitude of the climate crisis we have created. I may have left the Arctic, but the memories of this Arctic journey will move me for a lifetime.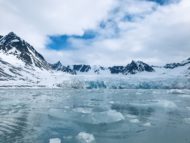 4. You(th) Matter
Watching a 16-year old Greta Thunberg ignite a movement of 4+ million people around the world for the climate crisis, there has never been a clearer moment in history to be convinced of the power and promise of youth and advocacy. It's why I was so incredibly proud to hold the Roots & Shoots flag as a global ambassador.  In my hands I held not just cloth, but also Jane Goodall's relentless belief in the indomitable human spirit, and the hope she has always inspired in each of us.
"There is a powerful force unleashed when young people resolve to make a change." — Jane Goodall.
Youth matter. You matter. The world is listening; the time for (accelerated) action is now.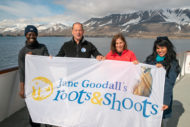 Does your school or eco-group want to hear Suparna's adventure and sustainability journey firsthand? Interested organizations can submit a speaker request by emailing Jasmina Georgovska at jasmina@janegoodall.org.uk
Photo credits: Suparna Mathur, David Hone and Trenton Branson