Dear Roots & Shoots Members,
Welcome to the Spring edition of our UAE Autumn 2016 newsletter.
There has been so much activity these last six months that I have to keep my introduction very short to fit all the exciting projects and events into our allocated space.
But I just want to say a huge congratulations to all of you for your hard work, perseverance and commitment in making this a great year so far.
Here's to many more productive and rewarding times ahead. Keep up the good work.
You can download the Spring 2016 Newsletter here
Tara Golshan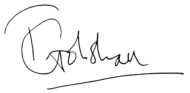 Executive Director, Education