Thank you Roots & Shoots for allowing one of our  Providence Academy representatives to attend the Awards ceremony with Dr. Jane Goodall. We were all inspired to hear Ms. Hambleton's report and look forward to next year's ceremony!
This recap of events is from our very own Grace Hambleton of Providence Academy: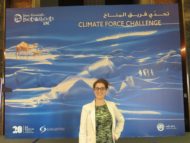 I had a wonderful time at the Roots and Shoots ceremony here in Abu
Dhabi. Quite a large number of schools were present. The effort the
children put into helping our environment was inspiring. I was greatly encourage for our participation next year and shared the following with our students and instructors:
Each school had the opportunity to set up a display showing the work
their students had done, and the work they have pledged to do in the
future. Some notable projects included tire flower pots, recycled
magazine pots, water-bottle lamps lit by solar power, and art projects
created from recycled material — including a replica of the Al Wathba
Fort. One of the most creative projects was clothing — dresses, shirts,
and shirt decorations — students had created from paper. While they set
up the display, I took the opportunity to talk to some of the students
and the teacher responsible for overseeing the class. Ideas were passed
back and forth between the students, teacher, and several of the
bystanders for ways to make the project even more eco-friendly. I
enjoyed hearing them discuss the possibility of including recycled paper
or magazines to create patterns and designs in the clothes.
Another interesting part of the event was when the schools completed
their presentations. Each school was given an opportunity to come up to
the stage to explain how their school was working on saving the
environment. While most schools did so in conservative ways, there were
several creative ideas. One class presented their ideas and activities
in the form of song; one made a video about their jobs, and one
incorporated traditional prayers and chants from one of their student's
heritage.
The final highlight of the event was having the opportunity to hear Dr.
Goodall speak. From the beginning of her speech, she captivated the
audience with stories of when she was a young girl and how she ended up
studying chimpanzees in the jungles of Africa. From her life story, she
moved on to encouraging the audience. She explained how humans can
easily destroy the earth through neglect, but that by being purposeful
in their use of resources and by recycling and reusing, humans can also
save the planet on which they live.
After lunch, there were a few workshops and activities for the students
to take part in. They were taught how to weave palm fronds and how to
start fires without matches. Another of the activities enabled the
students to pretend to be turtles trying to navigate through trash
infested waters.