On January 23, 2017, Siraj Anwar and Aayushi Sangani of IB I YR visited the RAK Research & Innovation Centre at the American University in Ras Al Khamiah. This was the first ambassadorial event for the UAE National Schools Environment Protection Program.
The event was organized by the Clean Energy Business Council, a non-profit organization involved in the clean energy sector across the MENA region. Some of the top schools of Dubai were invited to visit the RAK Research & Innovation Centre to learn about the projects that they have undertaken and to tour their premises. The Research & Innovation Centre features the world's first high precision solar tracking plat-form, which can be used for concentrating solar panels, a weather station and a solar outdoor facility.
The employees of the research center welcomed the students and gave an outline about the work that they have undertaken. The various developments includes Solar Island, Vertical Farming and testing of different solar panels. After the introduction, the students were taken on a tour of the centre where they got an opportunity to see the weather station, the greenhouse where vertical farming is being experimented and the solar island prototype.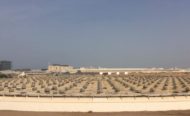 Solar Island is a prototype with a concentrated solar panel. It is a modified version with high efficiency in power generation. The Solar Island prototype is a Swiss-designed artificial island, which has been built in the UAE with the aim of providing a source of clean energy. The project is the result of a collaboration be-tween Neucha tel's Swiss Center for Electronics and Micro technology (CSEM) and the local government.
The solution proposed by the centre was to build artificial islands that can sit offshore, where surface is not a problem. To cut costs, the usual solar panels are not used, but rather a concentrator that heats water running through pipes and the steam generated is then used to generate electricity.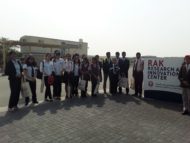 The visit to the RAK Research & Innovation Centre was an extremely enriching experience. It inspired the students and enthused them to continue working towards the betterment of the environment as ambassadors of clean energy.