What better way to be connected to the earth and the beauty of nature than to plant seeds in the soil. Little hands and imaginative minds of Grade 1 were at work as they created their very own garden using recycled tyres and painted them with different colours connected with the U.A.E flag colours. Children dipped their tiny brushes into nontoxic coloured paint and brought to life old recycled tyres. Attired in their daddy long T-shirt they looking like little artists at work.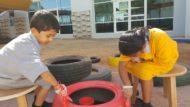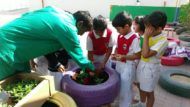 Brimming with creativity and energy, the children after brainstorming with their friends in Grade 1 came up with the brilliant idea of initiating a green drive to give their school a unique garden of its own. An input here and a suggestion there, soon a mind map was drawn up by the enthusiastic budding gardeners who planned to go green with a difference. As tyres were rolled out and potted plants were brought in, an excitement filled the air and 5 to 7-year-old set to task to build their very own garden.
Across the 12 sections of Grade 1, 360 children took turns in colouring the rubber tyres. Once painted, they were set to dry in the sun. Thereafter, the tyres were fixed to wooden frames. Next, the saplings were planted in the soil and patted down by tiny hands and viola tiny islands of green patch dotted the bus bay area in the shape of an S which symbolizes success . A unique ecofriendly garden was created using recycled tyres and saplings planted in it which will help in sustaining our environment.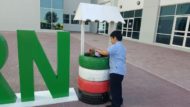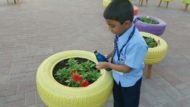 An oasis of greenery was created in the midst of the desert by our very own Grade 1's and lessons on nature were learnt for life.