Every minute, one million plastic water bottles are purchased worldwide. We know where many of these will end up-floating around the sea. 
At Fairgreen International School we are working towards reducing plastic waste and carbon footprint, by having water fountains throughout the school. Our goal is to become a single use plastic-free campus. The availability of water fountains for our students is beneficial to their productivity, health, and quality of life. We are all aware that children are generally very active, particularly during break times and in class (even when they are not supposed to be running around). Having water fountains encourages them to drink water more frequently than usual. It is critical to have easily accessible water on your school grounds. Encourage the school to stay hydrated all year long by installing Drinking Water Fountains!
There are over ten water fountains at Fairgreen International School. The water dispenser has a bottle saver (a counter that shows how many bottles have been reused) on it, so every time you fill up your water bottle, the counter rises. And the total number of water bottles reused is now around 440 thousand.  Fairgreen is proud to say that we use Hydrofresh water fountains which use environmentally friendly water. 
Majority of our students bring their own water bottle to school and fill it at these water stations, reducing the need to buy single use plastic bottles. Fairgreen closely follows the UN sustainable development goals which includes the Life Under the Water development goal. As Fairgreen International School is progressing in the percentage of plastic waste is recycled and decreasing the amount of single use plastic brought into our school.
Every day, 1.4 billion, that is nine zeros, single use plastic bottles are purchased globally. Unfortunately, plastic which is single use is often thrown away instead of recycled. These discarded pieces of plastic can join together in what we know as Trash Island, a huge gathering of plastic garbage in the ocean twice the size of Texas! Not only that but loose plastic can get attached to sea creatures and suffocate them, killing them. Over one million sea creatures die due to plastic consumption or entanglement annually. 
Luckily, Fairgreen International School has taken the first step toward encouraging plastic recycling and reducing single use plastic usage in our school and wider community.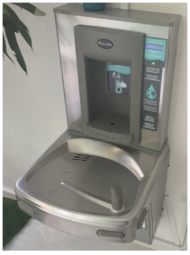 One of the water fountains at our school.
Written by Fairgreen International School Eco Council committee