On 15 November 2022, our students organized the Organic Fresh Produce Market- Nature's Bounty, an activity they enthusiastically participate in every term.
The fresh produce consisted of Bottle gourd, Ridge gourd, Spinach, Brinjal /Egg plants, Bitter gourd, Tomatoes, Green chilies, Coriander, Radish, Snake gourd, Capsicum etc. The produce was grown and harvested in the six organic kitchen gardens of DPS Dubai.
The students enjoyed being part of the Organic vegetable sale and the proceeds will be reinvested in the future projects of Nature's bounty – our in-house organic farms.
The initiative is part of the Green School Project that intends to convert the school compound into a green oasis, keeping with the government's thrust on community involvement towards building a green economy.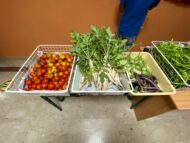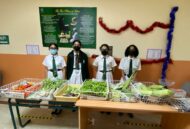 Rashmi Nandkeolyar, our Principal and Director said: "The Green School Project primarily focuses on sustainable and healthy eating habits using the principles of organic gardening and growing one's own food in line with the UAE's food security agenda, while focussing on reducing our carbon footprint and fostering sustainability. When they are involved in the sowing, they also begin to eat healthy as well. So this initiative has helped developing healthy eating habits among them too."
As part of this drive, all the students from KG to Grade XII – with active support from their teachers and parents – grow vegetables, medicinal plants, fruits and flowers in six 'urban farms' and 'kitchen gardens' across the school using completely organic methods.
These farms are assigned to different grades and students act as caretakers in conjunction with the school gardener.