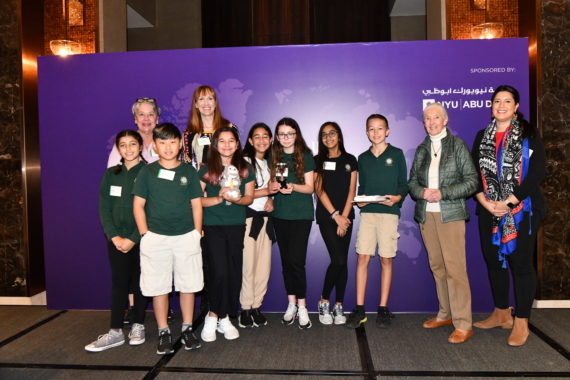 On the 6th of February, we were privileged to attend Dr. Jane Goodall's Roots & Shoots Awards held in Park Hayatt, Saadiyat Island.
This event emphasized environmental protection and conservationism. Twelve schools from the UAE, including ACS, were invited present projects and initiatives from their schools. ACS students were inspired when Dr. Jane Goodall visited their booth, told them that she was aware of several of the projects they were doing and encouraged them to keep up the great work.
Following a speech by Dr. Jane and the presentation of awards to all of the schools, everyone went out to the beach to enjoy a nurdle hunt.
Here are some quotes from the ACS students and staff lucky enough to attend the event.
Every time I see Dr. Jane speak I feel inspired and moved to action. This time was no exception. I went home, immediately started reading her book and woke up at 5am the next morning full of energy and ideas for what our group could do next. ~Angela Caveney, Roots & Shoots Coordinator
It was great! I got to meet Jane Goodall and she had a great speech and it was interactive. We could collect nurdles and get a nurdle art piece, which shows you can make art out of anything.  ~Sam Park, 5th Grade Student
After hearing Dr. Jane Goodall speak, I almost decided to become a vegetarian. ~Ashdon Caveney, 5th Grade Student
The Roots and Shoots awards was an amazing, fun, and inspiring place to be, the fact that we get to see what other schools do and meet Jane Goodall was one of the best things! ~Alison Lobo, 5th Grade Student
Looking at other people's projects was very inspiring! ~Giorgia Rozzoni, 5th Grade Student
It was amazing to meet Dr. Jane Goodall and we learned about the cool projects the other schools are doing. It was interesting to hear from Jane about how remaining calm helped her to build trust with the chimpanzees. ~Pilar Datta, 5th Grade Student
The Awards Event was an amazing opportunity for our students to share their work, learn from other schools, connect with the larger Roots and Shoots Community and be inspired. ~Melisa Pubil, Director of Service Learning
I became involved with Roots & Shoots at Taipei American School in 1998 thanks to my dear friend, Siew Kang! My two daughters and I were thrilled to meet Jane at that time and respected the great commitment our school had to R&S!! We continued our involvement for the 12 years we spent at TAS!! How thrilled I was to join ACS and my lifelong friend, Anne Russell in such earnest endeavors to support Jane's mission. Now, as I head into retirement, I vow to plant more trees and to involve the local schools in my Iowa community. Thank you, Jane and NYU…the event was absolutely phenomenal!!  ~ Julie Dotterer, ES Librarian & Roots & Shoots Leader