We were very busy this year!
Activities over the past 12 months include:
1)  No Car Idling Campaign. More than 80 adults and students worked as activists to organize and execute a car idling "protest" after school one day.

a)  Students have created anti-car idling animations that are shown on screens on campus throughout the day.
b)  Students have designed a huge no-car-idling banner for the outside of the school.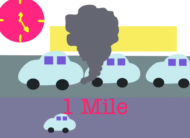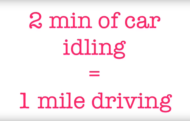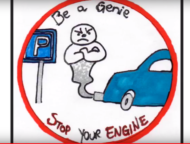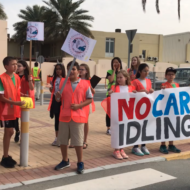 2)  Bus Raid. Students created and distributed "care packages" to 800+ construction workers.
3)  Syrian School. Students created flashcards and other english language learning materials for a local school for Syrian Refugees. A relationship between the schools was being fostered through videos sent back and forth.
4)  IKeralot. Throughout the Fall of 2018, students raised awareness of and held fundraisers to support individuals in Kerala following the flooding.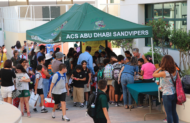 5)  Stray Cats. Students were educated about and raised awareness throughout our community regarding our stray cat population. They also collected food and donations to support a group doing TNR (trap, neuter, release) work in Abu Dhabi.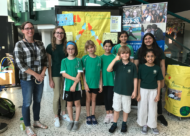 6)  T-shirt Weaving. Students collected old t-shirts and turned them into woven art.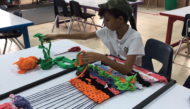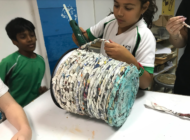 7)  Bottle Cap Mural. Students collected plastic caps and glued them into mosaic artwork.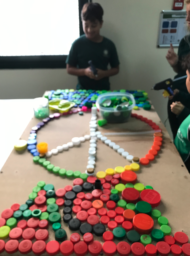 8)  Birdfeeders. Students used plastic waste to create bird feeders to be hung around campus.
9)  Dynamic Detectives. Students read newspapers and conducted interviews with individuals to identify where the "real need" is in our community and how we can have the greatest impact.
10)  Plastic Free Tuesday. Students raised awareness about single use plastic and encouraged people to use less, especially on Tuesdays.
11)  Worker Cards. Students created and distributed thank you cards to campus cleaning staff.
12)  Sticky Notes. Students wrote positive messages on sticky notes and posted all over campus.
13)  Global Goals Game. Students played games designed to teach them the global goals.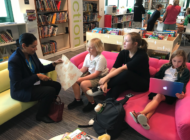 14)  Collaborative Art. ~50 students, over a period of 6 weeks, created a large tree painting. Roots & Shoots is written at the bottom and the leaves are made of old magazine pages.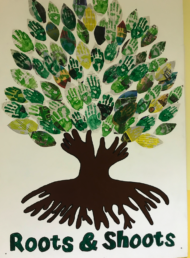 15)  Old Newspaper Art. Three separate projects have involved making things out of old newspapers, including baskets, bracelets and fans.
16)  Karmacise. An event organized by R&S kids to promote mental and physical health and wellbeing. Proceeds to the Red Crescent.
17)  Water Bottle Adoption. Our campus is plastic water bottle free, so all students bring their own thermoses. Each year hundreds of thermoses are lost and discarded. This program reunited lost water bottles with their owners, when possible, and "re-homed" them when not.
18)  Nurdle Hunting. Two events to clean nurdles from beaches were organized in the past year.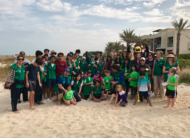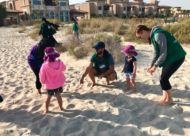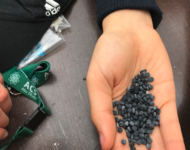 19)  Trash Walk. R&S kids and their families spent a morning cleaning debris from parks.
20)  Ring Tab Contest. School-wide contest raising ring tabs for the Purple Community Fund.