The goal of our environmental education is to raise awareness among the

students and the staff about certain environmental issues and the importance

of suitability to have better future. Al 

Rawafed

School believe in practicing

sustainability rather than    only learning about it. The school engage the

students in several projects, events and various awareness campaigns to

development their knowledge and skills and bout the environment to lead

them to better future.

​

Al Rawafed

Private School selected students as Sustainable Ambassadors, to a

program, sponsored by

Mubadala

Company (MASDAR). Which provide an

opportunity to the students to develop their core knowledge and skills which

prepare them for Abu Dhabi Sustainability week 2020

​
Al Rawafed Private School participated in several projects, environmental trips, events and campaigns ​
Rawafed

private School won the Sustainable Schools Initiative Award 2019,for

outside education in field trips. Second place among all private school in Abu

Dhabi and Al Ain.

​

The students collected more the 4 tons of old books and papers and exchange the

with the Environment friends Society for recycling also they collected more than

10,000 plastic bottles and exchange them with simply bottles for recycling in

order to reduce plastic waste.

​

The students campaigns  and celebrate the water day , Earth day , world

environments day UAE environment day

this gives the students an opportunity to

raise awareness among the school and within their community 

​

The Students turn  plastic and recycled paper into art

​
Al Wathba Wetland 2017. An educational and environmental trip to help students to learn more about the desert life and several endangered species who made this their home and found shelter​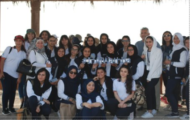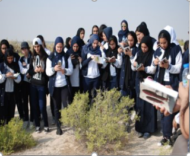 Al Wathba Wetland 2019 boys trip they learned about new plant and species and they learned about the migration of the flamingos ​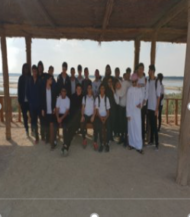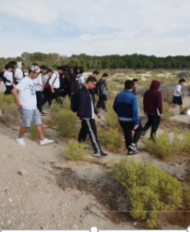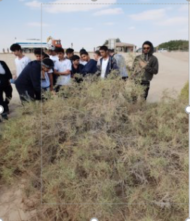 Trip to Masdar city 2019 the students learn more about the renewable and clean  energy. Also learn about the solar power plant​

The hydroponic trip was one of a kind. It opened a new horizon to the students and teacher . They learned new way of planting and how to save water. 2019​

Al Rawafed Private School Eco Club Members participated in the  AUS Environmental Day 2019​

Trip to Shams power plant In Madinat Zayed 2019 students learnt about alternative sources of energy such as solar and thermal energy. ​
Through the visit, our students realized how Abu Dhabi aspires to be an international hub for renewable energy, new energy and sustainable technologies, thereby balancing its already strong hydrocarbon position. As an expression of this strategy, Abu Dhabi hosts the headquarters of the International Renewable Energy Agency​
also the students learned  more about how the UAE Government has rolled out a programme that aims to provide power to 20,000 homes ,the station contain more than 258000 parabolic mirrors produce power through renewable energy through  solar system   which aims to achieve 7% of renewable energy by 2020.​

Mangrove 2019​
Students learn that mangrove protect shorelines form damaging

wind ,storms and waves ,also maintain water quality and clarity

,filtering pollutants  and store blue carbon ,and very important to

ecosystem .

​

Mangrove provide nursery habitat  for many wildlife species

including commercial fish.
Al Rawafed Students planting Damas and Ghaf trees inside and outside the school to reduce carbon emission ​

Planting day at Al Rawafed Private School​

Recycled boxes and plastic into customs for kids​