In Year 1 we were doing a topic about habitats. As part of our work about the desert habitat we took our learning to not one but 3 different beaches in 1 week! At each session the children participated in a carousel of different activities with a pirate theme.
First we went to a beach on Saadiyat island. We created messages and stuffed them inside bottles ready to send out as SOS messages. Help! Rescue us soon! We built sandcastles too and then used our pirate chopping knives to cut them into halves and quarters, practising the week's mathematics focus. We also developed our teambuilding skills trying to save a fish who needed water. We had to think how we could work together to pass the water along. It was a challenge! Finally Jen, a yoga teacher came to work with us and we made all kinds of animal and superhero poses.
The second day we went to Al Bateen beach. One of our activities was to make a pirate ship out of junk materials. Would it float? That was the question.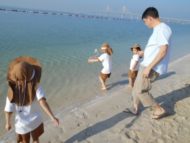 On the final day we went to the Corniche beach and did some paddleboarding in the sea. We had to try to balance with our knees!