By Roberto Brown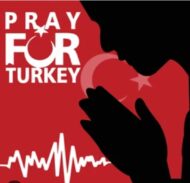 When I heard of the earthquake in Turkey I immediately thought of my friend and his family. Buildings on their block were demolished in minutes. They had to leave their homes because it wasn't safe. They had to stay in their cars for days before they could safely return.
I thought of Dr. Jane's message to us at the Roots & Shoots event held in Dubai in January and I felt motivated to comfort and be there for him. She inspired me to put out positivity into the world even if it's just a little, and as a member of ADHSA I am proud to say we made a difference.
We collected diapers, tents, sleeping bags, blankets and warm clothes and delivered them to the Turkish embassy in Abu Dhabi to aid in the support effort. Even posting a simple message to show support will help. Emotionally the Turkish people are devastated. In showing solidarity we can show them that they have our support, and that they are not alone.
We need to show love that we are shown. We need to spread deep empathy for the world and for others, because we are the future of this world. I genuinely believe that if we show that deep passionate care that we feel in our heart for others, the world will be able to heal and come to a greater sense of togetherness and peace.
We need to make that difference.
Together we can, together we will, together we must!